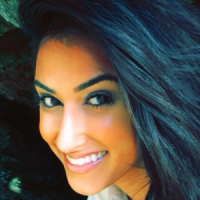 Current Efforts
Past Efforts
It's my birthday - let's celebrate! Join me in support of breast cancer research.

(Please include the best way to reach you for follow up questions)



Walk 2014 in Los Angeles, CA
My Target: $600 USDDonations received: $657 USD
View Details
Join BAPS Charities in its effort to help the community by supporting Walk 2014 in Los Angeles.
---
Supporting:
Susan G. Komen Inland Empire
Nancy G. Brinker promised her dying sister, Susan G. Komen, she would do everything in her power to end breast cancer. Today, Susan G. Komen® works to end breast cancer in the U.S. and throughout the world through ground-breaking research, community health outreach, advocacy and programs in more than 50 countries. For more information on Susan G. Komen® Inland Empire, please visit www.komenie.org or contact their office at 951-676-PINK (7465).
Learn more: www.komenie.org
My Supporters
| Name | Pledge Amount | Comments | Date |
| --- | --- | --- | --- |
Hema Shah
$50.00

USD

Run Aash Run :) ...or should I say Walk Aash Walk :)
May 15, 2014
Jemar Souza
$50.00

USD

Boom.
May 9, 2014
kunal patel
$25.00

USD

May 6, 2014
Anonymous
$20.00

USD

May 6, 2014
Anonymous
$50.00

USD

May 6, 2014
Sid Anand
$50.00

USD

Happy bday and great bday idea Aaaaaaaaaaash!
May 6, 2014
Anonymous
$25.00

USD

May 6, 2014
Alex Curry
$18.00

USD

Yayy Aash!
May 6, 2014
nolan foran
$25.00

USD

May 5, 2014
Ravi Patel
$101.00

USD

May 5, 2014
Anonymous
$25.00

USD

May 5, 2014
Preston Walton
$50.00

USD

May 5, 2014
Meredith Degnan
$18.00

USD

18= Chai!!!! Go breast cancer research!!! Go Aashy!!!!
May 5, 2014
Anonymous
$25.00

USD

May 5, 2014
Eli Nofzinger
$25.00

USD

May 5, 2014
Ramesh Patel
$50.00

USD

May 5, 2014
Aashika Patel
$50.00

USD

PLEASE JOIN ME! :)
May 5, 2014