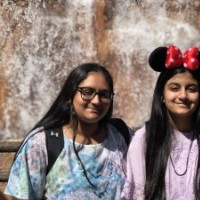 Current Efforts
Past Efforts
I'm collecting money for BAPS Charities. All proceeds go to the Nature Conservancy and Fuller Road Fire Department. The Walk Green 2019 Walk-a-thon is on June 9, 2019, which I will be participating in.

(Please include the best way to reach you for follow up questions)



Walk Green 2019 in Albany, NY
My Target: $500 USDDonations received: $150 USD
View Details
BAPS Charities Walk Green 2019 in Albany, NY is an event to raise funds for The Nature Conservancy, local beneficiaries listed below and other BAPS Charities activities.  This year, BAPS Charities will support The Nature Conservancy's efforts to plant one billion… Read more »
---
Supporting:
The Nature Conservancy
The Nature Conservancy is a leading conservation organization working around the world to protect ecologically important lands and waters for nature and people. Aided by hundreds of staff scientists, they pursue non confrontational, pragmatic solutions to environmental challenges.
Learn more: http://nature.org
Plant a Billion Trees
Plant a Billion Trees is one of The Nature Conservancy's flagship programs. Over the next few years, the Conservancy will work to plant one billion trees in an effort to restore and replant over 1.6 billion acres of natural space. Trees are a critical part of the environment, and essential to producing clean air and water for millions of people in North America.
Learn more: http://www.plantabillion.org/partners
Fuller Road Fire Department
Since 1926, the Fuller Road Fire Department Inc. has been offering fire protection, rescue services, other emergencies/ non-emergency responses, and EMS to its residents, businesses, and visitors. We also provide mutual aid responses to our neighboring departments.

Learn more: http://www.fullerroadfire.com/
My Supporters
| Name | Pledge Amount | Comments | Date |
| --- | --- | --- | --- |
HetalParag Surati
$25.00

USD

You go girls!
May 20, 2019
akash patel
$100.00

USD

May 13, 2019
bharatiben patel
$25.00

USD

nice work
Apr 30, 2019