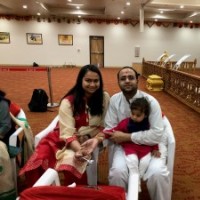 Current Efforts
Past Efforts
Dear Friends, BAPS Charities has chosen a amazing beneficiary this year . Swamishri's living motto , in the joy of others, lies our own. Kindly share !!! Be the change you want other to be !!! President Obama has well said : This is the first generation which is impacted by global warming and the last generation who can do anything about it. Lets make the difference !

(Please include the best way to reach you for follow up questions)



Walk 2014 in Sacramento, CA
My Target: $1,000 USDDonations received: $100 USD
View Details
Join BAPS Charities in its effort to help the community by supporting Walk 2014 in Sacramento.
---
Supporting:
Susan G. Koemen Breast Cancer Foundation Sacramento Valley
The Sacramento Valley Affiliate of Susan G. Komen for the Cure was started in 1997 when a group of volunteers came together to host a golf tournament. Through events like the Race for the Cure and Gala for the Cure, we raise dollars for local community-based programs that educate, screen and diagnose women who otherwise could not afford it. Our focus is on making grants for local clinics that treat uninsured and underinsured women. Since it's inception, the Sacramento Valley Affiliate has awarded over $15 million to local organizations.
Learn more: http://www.komensacramento.org/
My Supporters
| Name | Pledge Amount | Comments | Date |
| --- | --- | --- | --- |
Mukti Patel
$25.00

USD

Jun 3, 2014
Induben Patel
$25.00

USD

Jun 2, 2014
Vinod Patel
$25.00

USD

Jun 2, 2014
Satish Patel
$25.00

USD

Jun 2, 2014