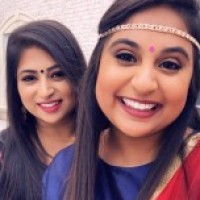 Current Efforts
Past Efforts
As a volunteer at BAPS Charities, I participate in the annual BAPS Charities' Walk. My passion has always been to help family, friends, colleagues and the community at large. Offering a helping hand can make a tremendous difference in the lives of so many. Whether it be small or large, in kind or by donation, advice or servitude. Please help me attain my personal goal to help raise donations for The Nature Conservancy. Your donation will leave a lasting impression on so many lives! Thank you for all the help!

(Please include the best way to reach you for follow up questions)



Walk Green 2019 in Savannah, GA
My Target: $1,000 USDDonations received: $1,161 USD
View Details
BAPS Charities Walk Green 2019 in Savannah, GA is an event to raise funds for The Nature Conservancy and other BAPS Charities activities.  This year, BAPS Charities will support The Nature Conservancy's efforts to plant one billion trees by 2025 through… Read more »
---
Supporting:
The Nature Conservancy
The Nature Conservancy is a leading conservation organization working around the world to protect ecologically important lands and waters for nature and people. Aided by hundreds of staff scientists, they pursue non confrontational, pragmatic solutions to environmental challenges.
Learn more: http://nature.org
Plant a Billion Trees
Plant a Billion Trees is one of The Nature Conservancy's flagship programs. Over the next few years, the Conservancy will work to plant one billion trees in an effort to restore and replant over 1.6 billion acres of natural space. Trees are a critical part of the environment, and essential to producing clean air and water for millions of people in North America.
Learn more: http://www.plantabillion.org/partners
My Supporters
| Name | Pledge Amount | Comments | Date |
| --- | --- | --- | --- |
Dennis Kilbride
$5.00

USD

May 12, 2019
Jeff Crew
$20.00

USD

May 12, 2019
Jamie Jackson
$10.00

USD

May 12, 2019
Vishal Limbachia
$25.00

USD

Slow and steady wins the race!
May 11, 2019
Sajal & Yogi Patel
$15.00

USD

May 11, 2019
Anonymous .
$75.00

USD

May 10, 2019
Mitesh Patel
$100.00

USD

May 10, 2019
Rajesh Patel
$150.00

USD

May 10, 2019
Courtney Skinner
$25.00

USD

May 10, 2019
Kalpana Sharma
$50.00

USD

May 5, 2019
Trupati Patel
$50.00

USD

May 5, 2019
Cassidy Blansit
$25.00

USD

Apr 30, 2019
Jatin Kalyani
$250.00

USD

Dear Reema & Juhi: Thank you so much for your noble deed.. You guys Rock!!! Keep up the good work. I would like to put help you bridge the gap to get you to your goal of $600, so please accept a donation of $250.00 form Kiran and Jatin Kalyani!!
Apr 28, 2019
Anonymous .
$116.00

USD

Apr 28, 2019
Dhruv Patel
$100.00

USD

Apr 23, 2019
Soni Patel
$20.00

USD

What is a tree's least favorite month? Sep-timber!
Apr 22, 2019
Amanda West
$20.00

USD

Apr 22, 2019
Anonymous
$20.00

USD

Apr 22, 2019
Clayton & Anissa Turner
$15.00

USD

Apr 20, 2019
Roshni Patel
$5.00

USD

????????????????
Apr 16, 2019
Rishva Patel
$25.00

USD

Apr 10, 2019
Tina Sanders
$5.00

USD

Apr 8, 2019
Sarah Smith
$10.00

USD

For the trees ????????????????
Apr 8, 2019
Radha Patel
$25.00

USD

????
Apr 8, 2019