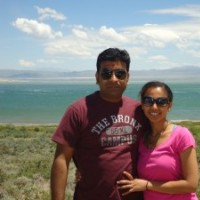 Current Efforts
Past Efforts
At any given moment, what do you think a tree is doing? Producing oxygen? Providing food and shelter for living organisms? Communicating with other trees in the area? (Yes, trees do talk to one another) You know when you hear that a tree is over two thousand years old? Here's what that means: It means that for over two thousand years, that tree has been storing carbon dioxide into the soil. Since only a portion of the carbon dioxide is used in the tree's day-to-day cycle, the rest accumulated in the soil around the tree. The older the tree, the more established its root system, so the more it can store in one go. So when said tree is then removed to clear the land - the entire storage of carbon dioxide it was holding into the soil and adding to it for 1,000+ years is now released. That's why you hear phrases like "deforestation releases millions of tons (1ton = 2000lbs) of carbon dioxide everyday" Because the tree was like a vacuum cleaner, and by removing the tree, you destroyed the vacuum bag and everything came flying out. The extra carbon dioxide then messes with the currently existing gases in the atmosphere and tips the balance. On a normal day, most of the sunlight is reflected back off the Earth, with the atmospheric gases holding on to the amount needed to create stable living conditions. The extra carbon dioxide means that extra sunlight & heat is being held into the planet, causing the global temperature increase. That's how deforestation impacts global warming. Help me support BAPS Charities Walk Green 2019 in Hartford, CT an event to raise funds for The Nature Conservancy and other charitable activities organized by BAPS Charities. Walk with me? However, if you cannot make it and would like to help make a difference no amount would be too small to donate. Thank you in advance for your support in making OUR world a better place! It's truly amazing how far generosity can take the world!! Love, Komal and Sachin Sunday, June 16th 2019 Time: 4:00 PM Registration Starts at 3.00PM, $5/walker Walk Begins at: - Newington Volunteer Fire Department, 1485 Main Street, Newington, CT 06111

(Please include the best way to reach you for follow up questions)



Walk 2014 in Hartford, CT
My Target: $500 USDDonations received: $60 USD
View Details
Join BAPS Charities in its effort to help the community by supporting Walk 2014 in Hartford.
---
Supporting:
American Cancer Society
The American Cancer Society is the nationwide, community-based, voluntary health organization dedicated to eliminating cancer as a major health problem by preventing cancer, saving lives, and diminishing suffering from cancer, through research, education, advocacy, and service. Sixty years ago, 1 out of 3 diagnosed with cancer survived. Today, thanks inpart to the work of the American Cancer Society, 2 out 3 will survive. Let's make it 3 out of 3. Join us to help finish the fight.

Learn more: http://www.cancer.org
Newington Volunteer Fire Department
Mission Statement

To provide state of the art fire suppression, rescue and prevention services to reduce property loss, injuries or death from fires, accidents, hazardous materials releases or other natural disasters, while recognizing the significant volunteer contribution of our members as the main ingredient to our success.

Learn more: http://newingtonct.gov/content/78/118/126/default.aspx
My Supporters
| Name | Pledge Amount | Comments | Date |
| --- | --- | --- | --- |
Dinesh Patel
$10.00

USD

Jun 10, 2014
Anonymous
$25.00

USD

Jun 10, 2014
Magda Alers
$25.00

USD

Jun 10, 2014