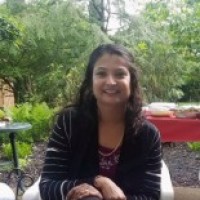 Current Efforts
Past Efforts
Hello Friends, Being a Respiratory Therapist, I closely work with patients with chronic lung diseases. Knowing the fact that our air quality affects immensly on everyone's health, I am supporting this great cause through BAPS charities to help our environment by planting trees and help reduce our carbon foot prints. Walk with me or Make even a small contribution that will go a long way to keep our Mother Earth Green and clean! This will be the best gift that we can give to our children & fellow citizens!

(Please include the best way to reach you for follow up questions)



Walk Green 2017 in Cleveland, OH
My Target: $100 USDDonations received: $35 USD
View Details
BAPS Charities Walk Green 2017 in Cleveland, OH is an event to raise funds for The Nature Conservancy and other charitable activities organized by BAPS Charities. This year, BAPS Charities will support The Nature Conservancy's efforts to plant and restore over… Read more »
---
Supporting:
The Nature Conservancy
The Nature Conservancy is a leading conservation organization working around the world to protect ecologically important lands and waters for nature and people. Aided by hundreds of staff scientists, they pursue non confrontational, pragmatic solutions to environmental challenges.
Learn more: http://nature.org
Plant a Billion Trees
Plant a Billion Trees is one of The Nature Conservancy's flagship programs. Over the next few years, the Conservancy will work to plant one billion trees in an effort to restore and replant over 1.6 billion acres of natural space. Trees are a critical part of the environment, and essential to producing clean air and water for millions of people in North America.
Learn more: http://www.plantabillion.org/partners
My Supporters
| Name | Pledge Amount | Comments | Date |
| --- | --- | --- | --- |
Greta Ziegman
$25.00

USD

Always glad to support such a great cause!
May 31, 2017
Anonymous
$10.00

USD

May 22, 2017